The Tolkien and Lewis societies
As a wide-eyed freshman hearing about the SCIO programme, I knew only one thing about Oxford: it was the university of C.S. Lewis and J.R.R. Tolkien. That knowledge immediately attracted me, and two years later, it framed my expectations during the application process. Other thoughts also surfaced, primarily focused on the literary heritage of Oxford. As one of my friends commented, what better place for an English literature major to study abroad than the University of Oxford?
During my time at SCIO, I was not disappointed in the fulfillment of my expectations. The environment was inspiring, challenging, and invigorating. My tutors asked questions I had never before considered and expected a caliber of work I had not previously attained. My understanding of my discipline exploded over hours of reading in the medieval library of the Radcliffe Camera. It was indeed an incredible place for a student of literature.
Yet the environment of SCIO offered far more than I had anticipated. One of the exciting aspects of Oxford are the innumerable clubs, societies, and choirs open to all students. Several of my friends joined the Wadham College Choir, and as their guest I was privileged to attend entrancing evensongs, supplemented with a hot supper afterwards in the college hall. On other nights, I attended a taster session for ballroom dancing – very unfamiliar ground – and ballet classes, which were much more up my alley.
The two societies that I dedicated to the most time to, however, were the Tolkien Society and the Lewis Society, unsurprising choices given my original interest in Oxford. The Tolkien Society is a delightfully nerdy group of people who settle down occasionally for serious lectures, but also engage in quiz battles with other societies, dramatic readings, and game nights. Excellent food is a hallmark of the Tolkien Society – members can always expect cake and drinks. The most memorable activity was a bonfire on the river. Candles lit our way along the path as we approached the river bank, and upon arrival we discovered roasted apples and good company bantering on every subject imaginable.
The joke at Oxford is that no one can be a member of both the Tolkien and the Lewis Societies, and while I may have broken that stereotype, I must admit that the groups are dramatically different. The Lewis Society is known for its weekly lectures given by prestigious researchers in Inklings scholarship. At the very first meeting, I was awed to hear and meet Walter Hooper, Lewis's personal secretary. The Society also hosted other, more casual events, most notably a one-man play of Lewis's life and a Christmas party, both held in the famous author's house. I vividly remember sipping tea and munching biscuits in the living room of Narnia's creator.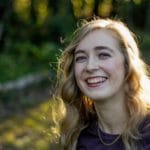 These activities made my time at Oxford much more than an academic experience, although it undoubtedly was that. I left the university with an appreciation of its culture and a determination to return to the UK for graduate school. I am now studying for an MLitt. in Romantic and Victorian Literature at the University of St. Andrews, Scotland. Many US friends ask why I'm doing a masters overseas, and my answer is always the same: at Oxford I fell in love with an academic culture where people cherish their rich literary heritage, but never neglect moments of pleasure in between the hours of reading.
– Anna Pearson –
Michaelmas Term, 2016
Ice Skating in Oxford
This past spring I had the privilege of studying as a Registered Visiting Student at the University of Oxford, one of the most highly esteemed institutions in the world of academia. Attending the University of Oxford has been one of the most rewarding experiences of my life, and perhaps surprisingly it was not solely because of the outstanding academics.
One of SCIO's orientation lectures is dedicated to discussing the various sports teams, clubs, and societies at the University of Oxford. Students are encouraged to look at the University's website and explore the dozens of activities offered. Despite having decided to limit my extracurricular activities while at Oxford, within a few days I found myself scrolling through the University's website. The rest of this story will be aided by a bit of context into my personal life outside academia: since the age of ten I have never been far from an ice rink; I was a competitive figure skater, training six days a week, three hours a day, for eight years of my life. When I began higher education, I took a step away from the competitive arena, but I still skate recreationally and work at an ice rink while studying for my degree at my home university. Knowing this context, it was only natural that the 'Ice Skating' tab on the website piqued my interest. I decided to take the risk and show up the next week, completely unsure of what to expect.
When I arrived at the rink the following Sunday I was warmly greeted by the president of the OxIce Skating Society and several other friendly students, each passionate about providing a fun experience for students to learn the basics of ice skating. I enjoyed the session, especially the interactions I had with other students. My years of training were evident, and the president of the society asked after the session if I would like to come back the following week to coach one of the classes. I happily accepted, and from then on I was an active member of the OxIce Skating Society.
Although I was nervous and skeptical going into the experience, being part of the society provided me with a healthy distraction from the rigors and challenges of academia and helped me develop numerous friendships. It positively influenced my academics, giving me a mental break before the beginning of each week, and was essential to the success of my overall experience at the University.
In writing this article I want to be clear in saying I am not advocating that it is absolutely necessary to be involved in extracurricular activities at the University: there are plenty of academic opportunities to explore that are extremely valuable to one's development as a scholar. For example, I was able to attend a seminar given by the author of a book upon which I had built one of my arguments for my undergraduate research seminar, and I was lucky enough to speak with him afterwards about my ideas. Experiences such as this are not available at every university, and it is a privilege that SCIO students are given these opportunities. Take full advantage of them!
My best advice to those anticipating coming to Oxford who are looking to become involved in an extracurricular activity, but feel unsure would be "just do it." Whether it be trying out for one of the numerous college choirs or joining a society where you don't know anyone, take the risk, show up and find your niche in Oxford! There is something for everyone, it just takes courage to take the chance and find what interests you.
– Emma Gray –
Hilary Term, 2019